Skip to Content
Can I Replace My AC Unit Myself?
Cypress Air AC Unit Installation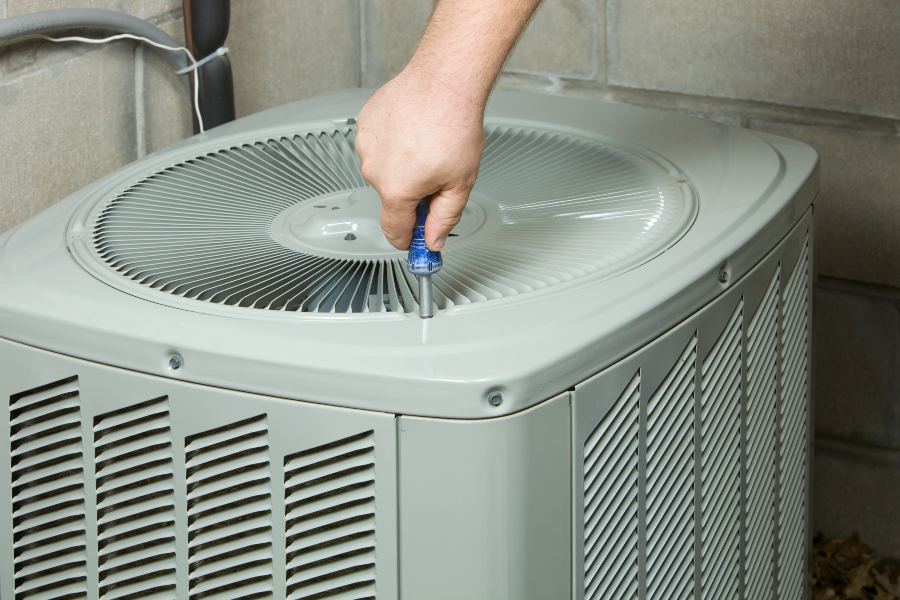 Can I Replace my AC Unit Myself?
Trying to replace your AC unit yourself will actually cost you more money in the end and may even risk your safety and the health and safety of your family and neighbors. When you start researching how to install an air conditioning unit, you will quickly discover that it is much more complicated than you might have initially assumed. You need a better than average working knowledge of electrical systems, handling chemicals, and using the equipment and tools needed to install the AC unit correctly and safely. Just one mistake can result in the need for costly AC repairs, which might end up costing more than the AC unit itself!
Hiring a professional to replace your AC unit means the job will be done correctly the first time, you and your family stay safe and comfortable, the work is guaranteed, you don't risk property damage or injury, and you preserve the value of your home. If you need a new AC unit in the San Gabriel Valley and portions of Orange County and the Inland Empire, come see us at Cypress Air. We have been providing air conditioner installation throughout California for over 55 years, and we have the expertise, tools, and training needed to install an AC unit quickly and affordably. To learn more or schedule an appointment, just call us today.
Safety Issues with Installing Air Conditioning on Your Own
Trying to DIY your AC unit installation has significant health and safety risks:
Electric shock – Air conditioning installation requires expert knowledge of electrical systems. You run the risk of electric shock or even fatal electrocution from touching the wrong electrical components.
Fire or explosion – Mishandling natural gas or installing the electrical components of your AC unit incorrectly can result in fire or explosion. This not only puts your health and safety at risk, but also that of your family, pets, and neighbors.
Property damage – If you install your AC unit incorrectly, drop it, or drop AC unit components, you risk property damage that can be costly to repair.
Falls and injuries – Depending on where and how you attempt to install your new air conditioning unit, you could be at risk of falling or sustaining serious or life-threatening injuries.
Poisoning and contamination – You and your family are at risk for accidental poisoning from inhaling carbon monoxide or gas fumes while installing the HVAC unit, or from improperly installing an AC unit. You can also suffer from poisoning, chemical burns, and environmental contamination by improperly handling the chemicals involved in installing a new AC unit.
Risks of Attempting DIY AC Unit Installation
When you simply search for "how to install a new AC unit myself in California," you're relying on crowdsourced responses from people who are not experts in air conditioning installation, electrical systems, or handling dangerous equipment, tools, and chemicals. Beyond putting your safety at risk, there are other risks of attempting to DIY AC unit installation:
Poor efficiency of AC unit – Improperly installing an air conditioning unit can actually make it run inefficiently and ineffectively. This might mean your home doesn't cool comfortably, your energy bills are high, and your family is still uncomfortable.
Wrong tools and parts – If you aren't an expert in HVAC installation, you might end up using the wrong tools and parts for your AC installation. This puts your health and safety at risk, as well as risking injury to your family and pets, and property damage to your home. Plus, you'll end up spending even more money on professional AC installation and/or AC repairs.
Voiding the warranty – Trying to install your air conditioning unit yourself can actually void the warranty on the unit. This means that if it's done incorrectly and needs future repairs, or if you need to replace the unit, you will be responsible for all of the costs out of pocket.
Lowering your home's value – An improperly installed AC unit will lower the value of your home, making it hard to sell in the future.
Paying more in repairs and maintenance – Trying to install an AC unit yourself will end up costing you more in AC repairs and AC maintenance over time.
Making your home even less comfortable – Attempting to repair, replace, or install a new AC unit yourself might end up making your home even less comfortable.
Installing a New Air Conditioner
If you're installing a new air conditioner in a home that has never had air conditioning or HVAC before, the job becomes even more complex. You need to design the system, determine where air ducts and vents need to go, and purchase the right size and type of AC unit for your home. If you make mistakes anywhere along the way, they will be costly and time-consuming to remedy. If your home has never had air conditioning, or if you are switching to an HVAC system, you need a professional HVAC company to complete the installation.
Demolition and Disposal of an Old AC Unit
Many people who consider DIYing air conditioner installation don't realize that they also have to consider the safe and responsible demolition and disposal of their old AC unit. You can't quickly and easily remove an old AC unit and then put it out at the curb for trash pickup, or throw it in a dumpster. You need to follow local rules and regulations about the safe and proper disposal and demolition method for your AC unit, or risk facing fines.
Schedule New Air Conditioning Installation
If you're ready to schedule a new air conditioning installation in the San Gabriel Valley and portions of Orange County and the Inland Empire, come see us at Cypress Air. We specialize in professional, reliable, and affordable AC installation, AC replacement, and installing ductless split AC systems and Lennox HVAC systems. We have over 55 years of experience in the industry, and are leading HVAC specialists in California. We are trusted by our customers because we operate with honesty and integrity, and are always transparent about our prices and services.
Don't try to DIY air conditioning installation – leave it to our professional HVAC team at Cypress Air to get your new air conditioning system installed quickly, correctly, and safely. Just call us today or contact us online to schedule an appointment. We can't wait to hear from you!