Skip to Content
Why Is Air Conditioning Installation Important?
Cypress Air AC Installation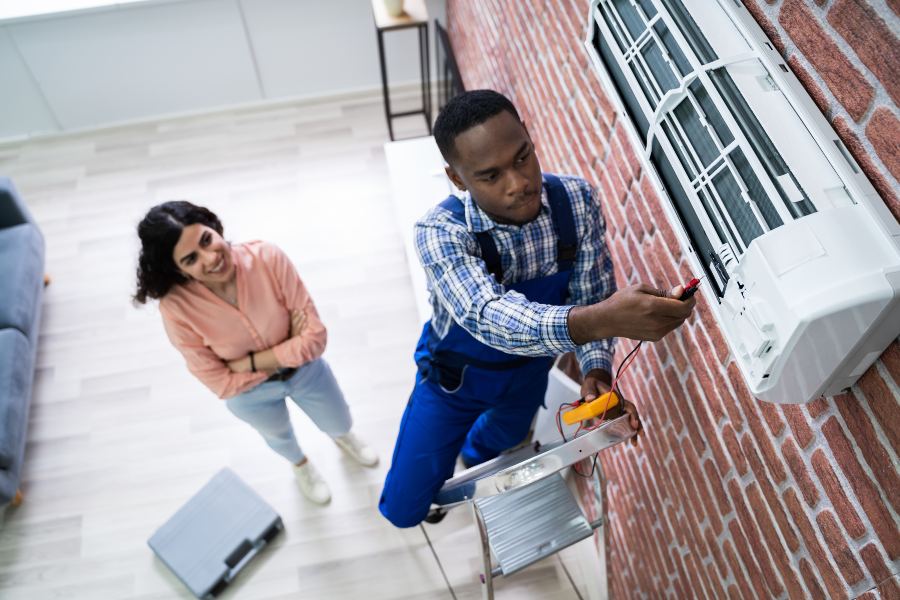 The Importance of Professional AC Installation
While you might think that searching for "air conditioner installation how to in California" will give you all of the information you need to safely and successfully complete a new air conditioner installation, it is actually far more complex than many people realize. AC unit installation requires extensive training, access to specialized tools and equipment, and a better-than-average understanding of electrical systems and dangerous chemicals. Attempting to DIY air conditioning installation can put your health and safety at risk, and even compromise the safety of your family, pets, and neighbors. If you need a new HVAC unit in the San Gabriel Valley and portions of Orange County and the Inland Empire don't try to complete an AC installation yourself! Just call us today at Cypress Air. We're available 24/7 and have the equipment, tools, experience, licenses, and insurance to complete your new AC installation quickly, safely, and affordably.
Problems With Trying to Install an AC Unit Yourself
Trying to install an air conditioning unit yourself will cause more problems than it solves. You will have to invest in specialized tools needed in order to do the job safely and correctly – and that's on top of the cost of an AC unit itself. If you make a mistake when installing an air conditioner, the cost to fix the mistake may end up costing as much as the actual AC unit! Installing an air conditioner yourself also puts you and your family and neighbors at risk of health and safety issues. You risk electrocution, fires, spilling or improperly handling dangerous chemicals, and other accidents and injuries like falls, property damage, and more. If you install your AC unit incorrectly, it will affect your home's resale value, and can even affect your homeowner's insurance.
Professional Installation Saves Time & Money
Hiring a professional for air conditioning installation will end up saving you time, money, and stress. You can rest easy knowing that the AC installation was completed correctly, and that the unit itself and the labor is under warranty. A professionally installed air conditioner will last much longer as well, as the HVAC technicians you hire know how to install the unit properly and will provide routine maintenance services that extend the AC unit's lifespan. In the long-term, a professional HVAC installation ends up being less expensive than trying to install an air conditioner yourself.
Professional AC Unit Installation Lowers Utility Bills
Professional AC unit installation can lower your utility bills. Your AC unit will have proper air flow, which means that the rooms in your home will get to a comfortable temperature faster, so the AC unit won't need to run as long to cool your home. This means that your energy bills will be lower. Newer, more energy-efficient AC units can also cool your home faster for less money.
H3: Finding an HVAC Unit Specialist in California
When you're looking for a qualified, reliable, and affordable HVAC unit specialist in California, consider the following factors:
Experience – You don't want to hire an HVAC technician that doesn't have any experience installing AC units. Find a team who has years of education, training, and practical, hands-on experience in air conditioning installation.
Licenses and Certifications – You want to make sure that the HVAC company you hire holds the proper licenses and certifications as required by your state. They should be able to tell you their license number(s) so you can verify that they are valid, active, and have no outstanding violations.
Insurance – Your HVAC unit specialist should hold insurance, including workers' compensation insurance, so if there is an accident or injury on your property (or they don't complete the work!) you won't be liable.
Customer Reviews – Check customer reviews for each HVAC company to confirm they have experience, their customers are happy, the jobs were completed on time, they operate with honesty and integrity, and they communicate effectively with customers.
Knowledge and Specialties – Ask each HVAC company about their knowledge and specialties. Some HVAC technicians undergo additional training and earn certifications in specialized areas that might make them more qualified than their peers.
Customer Service – The way that the HVAC technicians treat their customers is also very important. You want to choose an air conditioning installation specialist who is polite, responsive, punctual, communicative, and dedicated to exceptional customer service.
Benefits of Professional Air Conditioning Installation
Professional air conditioning installation saves you time, money, and stress, and ensures your AC unit will operate correctly. It also offers a lot of other benefits, including:
Extended life of the AC unit
Guaranteed work
Better airflow and efficiency
Improved indoor air quality
Reduced energy bills
A more comfortable home
Warranties on equipment and labor
Lower ongoing maintenance and service costs
Improved safety
Increased home resale value
Need a New HVAC Unit in San Gabriel Valley or Orange County?
Does your home or business need a new HVAC unit the San Gabriel Valley and portions of Orange County and the Inland Empire? Come see us at Cypress Air. We have been providing quality, reliable, and affordable HVAC services in California for over 55 years, and our friendly, reliable team is standing by, ready to find solutions for your heating, cooling, and plumbing problems. Whether you've never had an HVAC system in your home before, or want to replace an HVAC system that is broken, worn down, or inefficient, we've got you covered! Just call us today or contact us online to schedule an initial air conditioner installation consultation.