Skip to Content
Can regular maintenance cut down on air conditioner repair?
Cypress Air AC Maintenance Services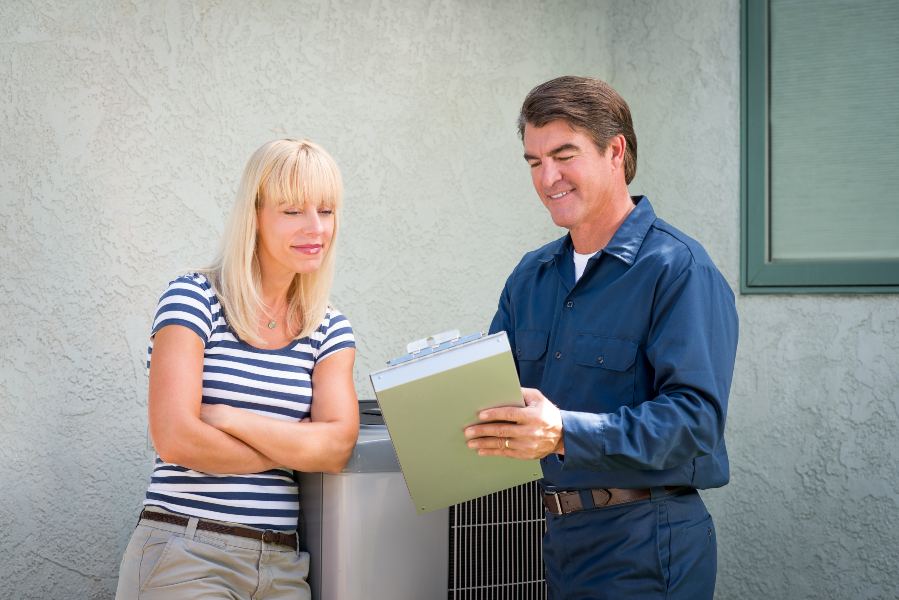 Can AC Maintenance Cut Down on the Need for Repairs?
Many of our customers ask us if regular, routine AC maintenance can cut down on the need for AC repairs, and the answer is yes! Scheduling seasonal AC maintenance services can keep your system running efficiently and effectively all season long, so you and your family stay safe and comfortable.
If you're ready to schedule AC maintenance in the San Gabriel Valley and portions of Orange County and the Inland Empire come see us at Cypress Air. We have been providing comprehensive, affordable HVAC services throughout California for over 55 years, and we love meeting new customers and solving their HVAC problems. Call us today to schedule an appointment or learn more about our HVAC services. Our routine AC maintenance, like air duct cleaning, replacing refrigerant, changing air filters, and inspecting all of the intricate parts of your AC system, has many benefits beyond ensuring your AC system operates effectively. Here's a look at how AC maintenance can reduce the need for costly AC repairs, and also provide other benefits to your home and family.
AC Maintenance Saves Money
Regular, routine AC maintenance services actually save you money in the long-term. Your HVAC technician can find problems and repair them before they become bigger and more costly. AC maintenance also helps your system operate more efficiently and effectively, which can significantly reduce your energy bills. AC maintenance also extends the lifespan of your AC unit, so it will last longer without needing costly AC repairs or AC replacement.
AC Maintenance Improves Indoor Air Quality
Many people don't realize that there is a connection between a poorly maintained AC unit and poor indoor air quality. When your home's indoor air quality suffers, you suffer as well. Poor indoor air quality can cause or exacerbate allergies, asthma, and respiratory problems. If you live in a hot, dusty area and/or have pets, you're even more at risk of air quality issues.
Routine AC maintenance like air duct cleaning, changing filters, and duct sealing can reduce the allergens, irritants, and pathogens in your home's air. This is especially important if you have recently done remodeling or renovations on your home, or if you've discovered a pest infestation in your home.
AC Maintenance Is Eco-Conscious
Scheduling regular AC maintenance helps your AC unit run more efficiently. This means that it gets your home to a comfortable temperature faster, doesn't need to run as long, and reduces your energy bills and your carbon footprint. Maintaining your existing AC unit rather than installing a new AC unit also has environmental benefits as well. However, if your AC unit is old and inefficient, it is more beneficial to install a newer, more energy-efficient model.
AC Maintenance Extends the Lifespan of your AC Unit
Regular AC maintenance extends the lifespan of your AC unit. AC problems don't go away on their own, and ignoring them just makes them become bigger and more costly. Without routine AC maintenance, you may end up needing a new AC installation rather than AC repairs.
AC Maintenance Offers Peace of Mind
With routine air conditioning maintenance services, you can rest easy with the peace of mind that comes from knowing your AC won't suddenly break down and stop working. Scheduling seasonal AC maintenance in the early spring ensures your AC unit will work efficiently throughout the summer, so you'll never have to worry that you and your family will end up going without AC in the height of the summer heat.
AC Maintenance Keeps Your Warranty Valid
If you don't keep up with the required, necessary AC maintenance outlined in your system warranty, you risk voiding the warranty altogether. This means that you may end up being responsible for expensive AC repairs even if they fall within the warranty period.
Ready to Schedule AC Maintenance?
If you're ready to schedule AC maintenance the San Gabriel Valley and portions of Orange County and the Inland Empire come see us at Cypress Air. We specialize in HVAC repairs, maintenance, and replacement so our customers' systems always operate efficiently and effectively, and their homes remain comfortable year-round.
We make it easy to keep up with AC maintenance and AC repairs so your system stays strong and effective. With over 55 years of experience in the HVAC industry, our team can solve your heating and cooling problems quickly and professionally, so you and your family can relax comfortably in your home. Whether you need AC maintenance, AC repairs, or AC installation, just call us today or contact us online.